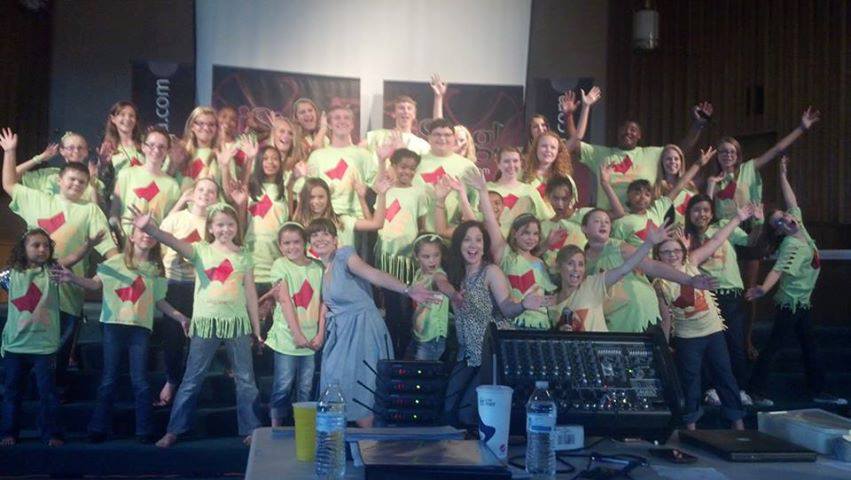 Singing Camp Staff Faq's Register Now!
---
Is this an overnight camp?
No. SINGING CAMP is a Monday - Friday day camp. Camp starts promptly at 10:00 am. Parents can pick-up their kids between 5:00 - 5:30 pm. Sorry, no childcare provided after 5:30 pm.

What are the camp dates and hours?
July 16 - 20
10am - 5pm
Campers can be picked up between 5:00 - 5:30pm

Showcase Performance will take place at 7:

00pm

Friday, July 20.
Where is the camp being held?
First Alliance Church
3726 Bardstown Road
Louisville KY 40218

How much does Singing Camp Cost?
Full week of camp is $325
How old must my kids be to attend Singing Camp
Singing Camp is for kids and teens ages 10 – 19. We offer activities and workshops that appeal to the pre-teen and older teen alike. Age exceptions can be made for precocious younger singers who can withstand a full day of singing and performing.

How long has Singing Camp been offered?
SingUSA has been offering summer Singing Camp since 2006.
What does my child need to bring?
Bring a sack lunch and water bottle daily. Vending snacks, drinks and bottled water will be available for purchase.

Campers should bring a list of at least (3) songs they enjoy singing. We'll help them to choose (1) song to work on in the RECORDING STUDIO and on stage. Campers will record their song at the end of the week at DSL STUDIOS and receive a compilation CD with all other camper performances. This may sound intimidating, but we promise to make it FUN!

A binder will be provided to organize all Singing Camp materials. Campers may want to bring pen/pencil for taking notes.
What should my child wear?
Casual, comfortable clothes (jeans, shorts, sweats). Campers will be asked to wear jeans and a SINGING CAMP t-shirt for the Friday night SHOWCASE.

What do the campers have for lunch?
Campers are required to bring their own sack lunch. Vending snacks, drinks and bottled water are available for purchase.

Tell me about the Friday night SHOWCASE CONCERT.
Everyone is welcome to attend the SINGING CAMP SHOWCASE CONCERT presented on Friday, July 20th at 7pm on the First Alliance stage. Please bring a food item to share if you can. Drinks will be provided. Come one, come all! Let's pack the house!

Do you have extended care?
No, we do not offer extended care. Campers must be picked up between 5:00 – 5:30pm each day.

What is your cancellation/refund policy?
Due to the number of staffers we must hire to ensure our campers have a fun, safe and orderly camp, no refunds will be given past July 9th. In the event you decide to not participate in Singing Camp before July 9th, you will be refunded all monies paid minus a $25.00 non-refundable administrative fee.

Who do I contact in case of emergency during camp?
On the first day of camp, parents are provided with our business cards containing our contact numbers in case of emergency. EMERGENCY CONTACTS are also listed below.

SingUSA Singing Camp Staff Contacts:

Lesley McFerron
502-777-9757

Lauren Crawford
502-930-4138